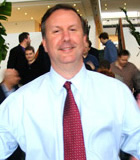 Ken McCarthy has been practicing and teaching online marketing since 1993.
He was a leader in the movement to commercialize the Internet and organized and sponsored the first conference ever held on the subject of web marketing.
Currently Ken conducts the annual System Seminar – The original Internet marketing training … and still the best.
It's hard to compete with a 14 year track record of success. That's how long Ken McCarthy has been helping people build Internet business and add to their online profits.
The annual System Seminar is THE conference that serious Internet marketers make sure they attend each year.