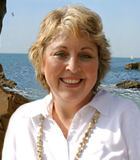 Seventeen years ago, Alice Mishica recognized the opportunity that existed in providing special services in the direct mail industry.  Under the guidance and support of many industry leaders such as Gary Halbert and Ted Nicholas, she has built Specialized Mailing Services Inc., a company unique in its field.  A full service, turnkey fulfillment center for marketers such as yourself, Specialized Mailing has formed strong partnerships with copywriters, graphic artists, printers, list brokers, and binderies.
Alice continues the tradition of improving on these processes with strong vendor relationships linked with cutting edge technology and a dedicated in-house staff of professionals.
Over the years, Alice has overseen the delivery of millions of newspaper and magazine tear sheets in addition to newsletters, support letters, and some of the craziest "grabbers" to ever enter an envelope! The youngest from a family of ten, Alice has become very proficient in dealing with large numbers!