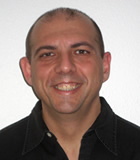 Craig Garber is known as the King of Copy. He's an attraction expert and personal friend. His brash, pull-no-punches style is a breath of fresh air for us and a real life example of the "Rule of Thirds" in action.
Craig knows more about pushing the emotional buy buttons of prospect then anyone we know.
And fortunately for you he has put everything he knows down on paper into his trademarked system called Seductive Selling®. We personally own this system and can tell you with certainty, if you want to motive prospects to take action this system will give you an unfair advantage over your competition.