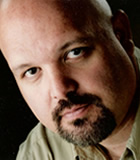 Dave Lakhani is one of those people you meet and are just fascinated by from minute one. He is a former cult member turned marketing guru and a personal friend. Dave is a highly acclaimed speaker and author of Persuasion—The Art of Getting What You Want and Power Of An Hour.
Big and bold describes Dave's look, attitude and results. Dave does many things to help business owners take their business to the next level and one major technique is through the use of publicity. The press can be a highly valuable tool for expert positioning and lead attraction.
"You're About to Discover Secrets Most People Will Never Know About 'Practical' Persuasion… Inside, you'll learn…
The FIVE Keys of Persuasion and How YOU can use them to gain an UNFAIR advantage over your competitors—Proven, Easy, Powerful.
How to develop your persuasive ability into a lifelong skill – Why stuggle to "convince" when you can use the art of persuasion to make WANT to help you.
The Long-Lost ART of Story Telling: Discover Why people listen to stories, why stories are masterfully persuasive, and how to use them to make your prospects JUMP on your command (ever heard of Pavlov?)!
Now at last, you too, can access the same inside secrets HUGE Fortune 500 Giants like IBM, Rogers Media, Micron, GE and even the US Army are using! Find out what to do, and even more important… what NOT to do when it comes to Persuasion, and… much much more!