New Media
David Meerman Scott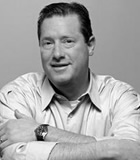 David Scott believes that the best way to reach your buyers directly is through online thought leadership strategies including blogs, Web news releases, podcasts, ebooks, and viral marketing.
His book The New Rules of Marketing & PR is a homerun for anyone wanting to know how to use these emerging marketing methods to change the game and explode your business.
David is a thought leader and helps others become one too. He has created thought leadership programs that have won numerous awards and are responsible for selling over one billion dollars in products and services worldwide.